For customers under support contract or warranty, the Bull Support offers a privileged access to its support site.
As soon as your registration is validated, you can consult and use many resources such as technical information, patches, software keys, ...
How ?
Go to the registration form,
State the mandatory information about Your Identity
In the area Information for registration, you choose the registration level, your country (*) and the element from which you will be registered.
After analysis and validation of the request, the user-ID and password are sent to the mail box declared by the applicant.
(*) Registration for countries not included in the list:
Requests from applicants whose country is not listed, generate an additional processing time.
E-mail protection
Requests from applicants whose mail box is equiped with a protection system generate an additional processing time.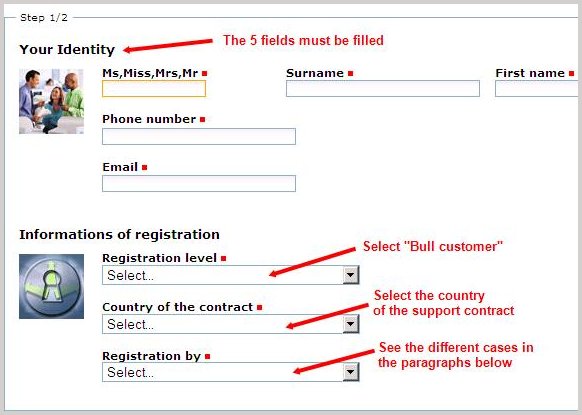 Your registration can be taken into account from one of the following 4 elements:


Nota Bene : If you have bought a support/maintenance contract to a reseller, please refer to cases 2 or 3 to register.

1st case:
The contract number + customer code
You enter a customer code and the reference of a valid contract (warranty codes are not accepted).
These information can be found on the invoice of the support/maintenance contract.
2nd case:
The serial number + postcode (ZIP) of the equipment location
You enter the serial number of one of the equipments, found on the delivery note or the registration plate, as well as the zip code of the hosting location of this equipment.
3rd case:
An existing other user

If someone in your company already has a user-ID, you provide this ID and the e-mail already registered on the Bull support site.
4th case :
Other
You are not able to provide accurate information about your contract and/or equipment, however submit a request for registration. If you choose this option, you will have to provide as much information as possible about your company and one known equipment in order to make our research easier.
Access to technical resources
The access to technical resources is automatically managed, based materials under contract.
For example, if you are a customer for Escala and storage, you will be allowed to consult customer areas for Escala, Storage and AIX.
Disabled ID
The user ID is disabled after 3 years without connexion.
If you are in this case, you must re-register: Registration Form